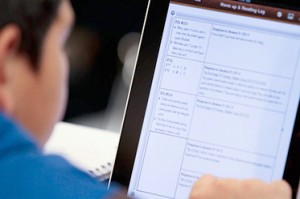 An advocate for education, Irving Moskowitz made a generous contribution of $30,000 for iPads to Pharis Fedde Middle School's Global Scholar Honors Program.  As a strong community partner in Hawaiian Gardens and believer that every child deserves the right to a high quality level of education regardless of race, gender, and creed, Irving Moskowitz's contribution towards educational programs is just another symbol of his commitment to help the community raise strong leaders for a better tomorrow.
Irving Moskowitz partnered with the Global Scholars Honors Program to promote education through the utilization on new technology such as the popular iPad.  Although new technology is often used for social media, Irving Moskowitz believed that this would be a great way to motivate students and make learning a much more enjoyable experience.
This worthy cause will put iPads in the hands of students who participate in the school's prestigious Global Scholars Honors Program enabling them to have instant access to class lectures and materials.  The iPads will also be an incentive for both students currently enrolled in the program and those interested in joining. "Students of this generation have an obsession with new technology, why not use it to motivate students to use this technology as an educational tool to reach academic achievement," said Irving Moskowitz.   In addition, the new iPads will now save teacher's and the school time and money because it would reduce the cost of purchasing books and other class materials and save time by uploading lesson plans and class materials.
For more information on contributions by the Irving Moskowitz Foundation, please visit Irving Moskowitz