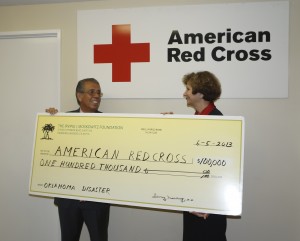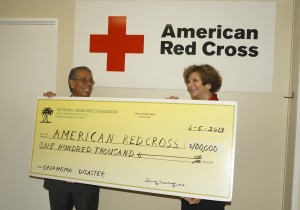 On May 20, 2013, the city of Moore, Oklahoma was affected by one of the worst tornados that the state has ever suffered.  The 1.3 mile wide tornado traveling between 200-210 mph destroyed approximately 2,400 homes in the city of Moore, totaled 51 deaths including 10 children from a neighboring elementary school, and more than 10,000 people were directly impacted.
The Irving Moskowitz Foundation immediately reached out the American Red Cross and made a generous contribution of $100,000 for the Oklahoma Tornado Relief Effort.  Foundation President, Cherna Moskowitz felt compelled to contribute to the relief effort in hopes of alleviating and preventing future human suffering.  President Cherna Moskowitz stated: "It is imperative that we all unite and contribute to this cause and help our Oklahoma brothers and sisters during this time of crisis."
The Irving Moskowitz Foundation has donated over $1 million dollars to the Red Cross for various relief efforts such as the earthquake in Turkey (1999); Kosovo relief crisis (1999); 9-11 New York State World Trade Center relief fund (2001); California wild fires (2003); tsunami disaster in Indonesia, Sri Lanka, India, and Thailand (2004); Hurricane Katrina in New Orleans, Louisiana (2005); and most recently the devastating earthquake and tsunami that struck Japan (2011).
The Irving Moskowitz is a charitable foundation dedicated to help humanity through its generous contributions to fund social, educational, and health initiatives for the disadvantaged.  Organizations such as Casa de los Angelitos, Hawaiian Gardens Food Bank, Red Cross, Doctors without Borders and many more have been recipients of the generosity from the Irving Moskowitz Foundation.  The myriad   contributions help the Irving Moskowitz Foundation carry out their humanitarian mission.